Centuria
Cumana
Marche
Passerina
Wine
IGP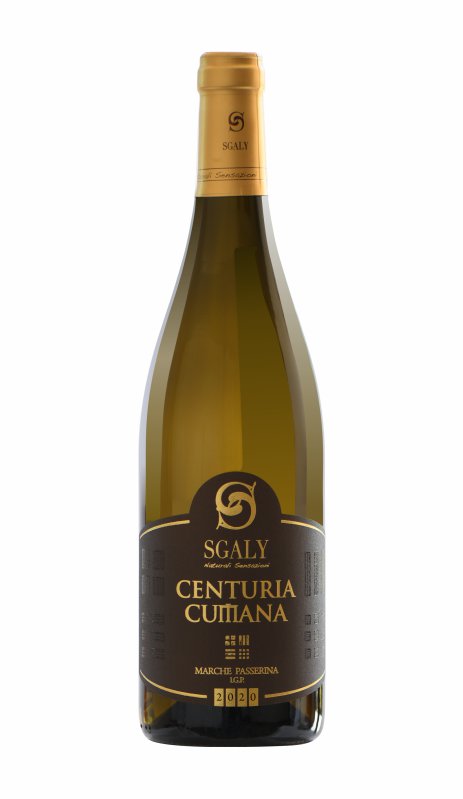 DESCRIPTION: An ancient native variety, the PASSERINA has always been highly sought after for its remarkable generosity of production. Rediscovered and revalued for the softness and freshness of its wines, it is the ideal companion in many combinations, from the classic aperitif, to the most demanding dishes based on fish or white meats.
ORIGIN OF THE NAME: CENTURIA from centuriation – method of land measurement conducted by surveyors in ancient Rome. It consisted of dividing an area into plots called "centuries", initially by drawing two perpendicular streets, called CARDO and DECUMANO, which exactly how company Sgaly is divided. CUMANA from archaeological area of CUMA, facing SGALY vineyards.
COLOUR: Yellowish with golden shades

SMELL: On the nose it is intense and elegant with strong fruity notes of apricot and peach and also mint.

FLAVOUR: On the palate it is enveloping with an elegant acid final

EVOLUTION: Its freshness allows it to remain unaltered for up to 12/18 months, acquiring some light golden shades.         
DENOMINATION: Marche I.G.P. Passerina (PGI Protected Geographical Indication)

YEAR OF PRODUCTION: 2020
GRAPES: 100% Passerina
AREA OF ORIGIN: Ortezzano territory of "MARCA FERMANA" ( FM )
ALCOHOL: 13,5%
BEST SERVED AT 10-12°C